hi...
after lots of thots,I finally decided to post something belated..in a way, I hutang gambar dgn khaziah..
anyway,..we celebrated Teacher's Day 2007 with a treat from Khaziah. Where?..Dinner at Secret Recipe @IMM.I actually thot of somewhere nearer, like Swensen's or something but she insisted that we go to a place where I've never tried the food before..She convincingly said that the food there's nice, so I agreed. Again, June can't go,so there's only me , Ros ,Sally, and Khaziah herself.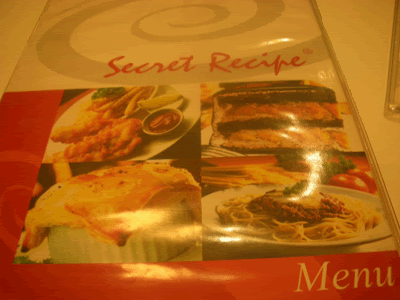 Went there by cab,and sat ourselves in a corner up on a raised platform.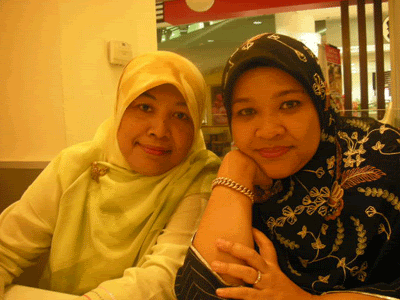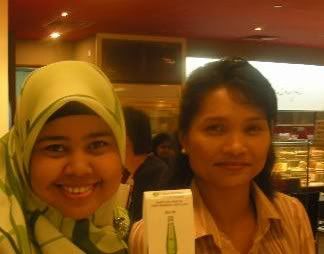 We took sometime to order as all three of us have not been there before and I wanted to have something a little different. For drinks, I ordered Iced Lemon Tea Float, Sally had Watermelon Juice, Khaziah had Kasturi Apple Lime Punch or something like that, while Ros had 7-up with lemon, I think...forgot laa...
the funny thing was that they were not allowed to taste their orders b4 I had a chance to take a shot at them with my cam.Muka satu2 boring pasal tak boleh minum dulu especially Khaziah yang da haus tu..
Then, we ordered our food..
I had Chicken Cordon Bleu. I think it's some chicken breast stuffed with turkey ham and cheese served with slaw and fries. I thot the combination would taste crazy but it was sedap giler!..hehe..pandainya aku pilih!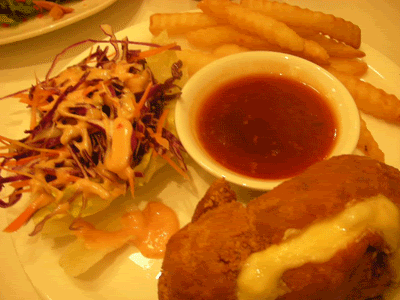 when u split it open,....fuuhh!..heaven...
Khaziah had baked fish with lobster sauce..but something happened and it was served with pesto sauce instead...I kecek her sikit...it was delish!..but she was sooo full from the earlier Teachers' Day Lunch that she had - that she couldn't take that much anymore...so I kecek lagi laa..sedap..the fish taste best when it was still hot, meaning - u gotta devour it as soon as they lay it down in front of u..but I find the side bun not matching enough to go with the dish..and it looked more like a raw egg...don't u think?...but I ate it anyway,hehe..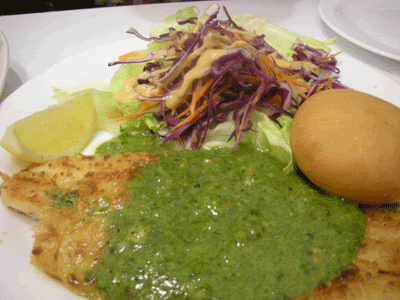 Ros pulak, ordered Fish n Chips, complete with soup of the day and the bun which looked like raw egg...BUT...they forgot the lemon!...incomplete, man!...
and the vege?...mmmm I prefer mine to come with carrots and broccoli..tapi..takpe la...ini Ros punya..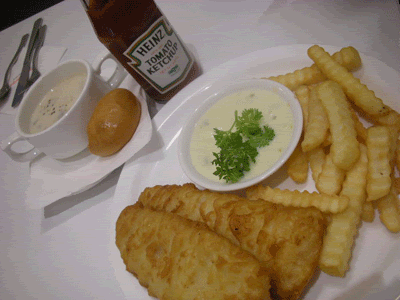 Sally had ...alamak I forgot la...sumpah!...here's the photo,anyway...i think it's chicken ke ape ntah...u figure..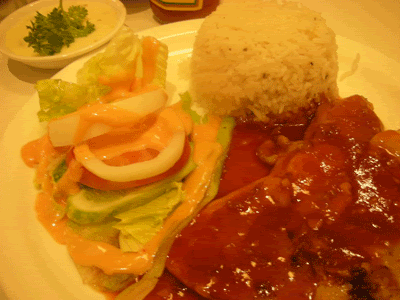 I ordered Caesar's Salad when I thot that we do not have enough vege on our plates.
I asked the waitress(who don't seem local)about the dressings that they have - I would love to have Ranch dressing to go with that but the waitress don't seem to understand the words that came out of my mouth.So I spared her the agony and just asked for some Thousand Island instead..I love the croutons(toasted bread cubes) but the sprinkle of turkey ham bits was a bit too extravagant,though..
We chatted and gossiped through the meal , laughed, got serious, laughed again,...and oh..we each received an orchid bouquet and a gift from Khaziah & Munirah.
When I noticed that I gulped down my Ice Lemon Tea Float too soon, I asked for their house mineral water,costing 50cents a bottle.
Then,I got greedy and asked for dessert. Everybody else were stuffed except me...I mean,..I gotta have their house special,right?..Khaziah wanted Iced Mocha or something like that...I asked for a Cuppucino and the famous Banana Chocolate Cake.
I asked yang lain nak tak sikit...Dorang tanak - bukan I tak tanya - so ape lagi, I baham sorang la...alamak....sedap....memang sedap...so kita berborak lagi sampai....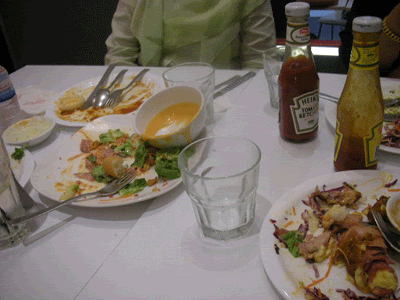 kita dah tak bole makan lagi, dan ...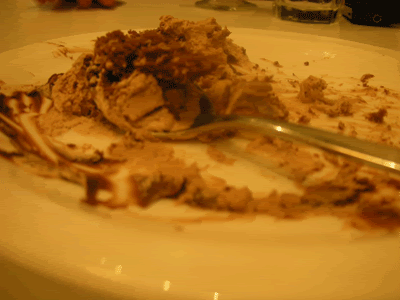 cake pun lat-lat tinggal ini aje...
dah kenyang semua,...Khaziah generously treated me to 2 more slices of the cake that I had, to be given to my 2 girls at home.Thnks, sis.
So,bila kita look around, kita je yang masih dok lekat kat resto tu, dorang pun da nak tutup, we decided to go off pasal Abg Kareem, hero nya si Ros pun dah nak pick up dia.Kita pun jalan to the taxi stand. Orang punya la ramai, macam nak line up Hello Kitty.Ntah tak semena-mena, I asked the group of giggling chinese girls infront of us to snap us this pic..bukan ape..konon2 bukti that we had a girls' nite out kat IMM.
Kaki sampai sakit tunggu, we decided to give them some credit too. Hitam,yang kasut macam kasut my hubby tu kaki Khaziah, Nampak jari yang macam nak pegi pasar tu kaki Sally,yang lonjong macam kuih lopes tinggal nak siram gula melaka tu kaki Ros, dan saya yang putih tu la...yang dah nak tanggal tu...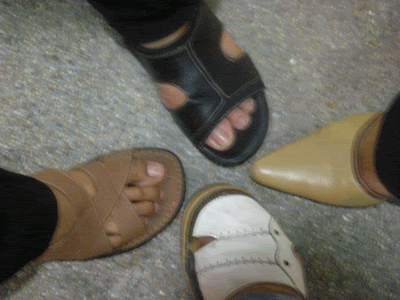 hai...tunggu punya tunggu teksi,tak gerak2 kita punya q-line.Sekali,hero Ros datang macam mat rempit. Bila Ros dah balik, aku step muka ceria konon2 pujuk nasib sendiri tunggu teksi yang tak sampai2.
Last2, I call hubby who's still in his office at Ngee Ann Poly to come and fetch us. It was a good 20 mins b4 he came.
Felt tired, but this time,....kenyang...time pegi Delifrance kemarin,tak kenyang...hehe
Anyway, thanks AGAIN Zie,...for the sumptuous treat.
That was a great nite and u know it!